'Making people pawns & hostages': UN rights expert slams US sanctions war on Iran, Cuba & Venezuela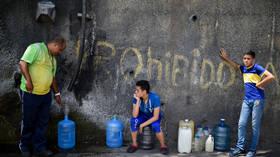 United States sanctions on Iran, Cuba and Venezuela are illegal under international law, lead to a "denial of basic human rights" and amount to "economic starvation," a UN rights expert has warned.
Idriss Jazairy, UN special rapporteur on sanctions and human rights, said in a scathing statement on Monday that US efforts at "regime change through economic measures" in countries like Iran, Cuba and Venezuela are "contrary to international law" and have "never been an accepted practice of international relations."
Serious political differences between governments "must never be resolved by precipitating economic and humanitarian disasters" and "making ordinary people pawns and hostages" to them, the statement said.
Also on rt.com
Civilians are the real victims (and targets) of Trump's Venezuela sanctions
Jazairy also challenged the notion that Washington's current sanctions on Venezuela were "helping" people.
"It is hard to figure out how measures which have the effect of destroying Venezuela's economy, and preventing Venezuelans from sending home money, can be aimed at 'helping the Venezuelan people,' as claimed by the US Treasury."
The high-level condemnation follows a report from the Center for Economic and Policy Research (CEPR), which found that the sanctions have increased hunger and disease, exacerbated the economic crisis and led to the premature deaths of 40,000 Venezuelans between 2017 and 2018.
He also called out Washington's decision to terminate sanctions waivers for buyers of crude oil from Iran, which harms not only Tehran but its major trading partners.
So Idriss Jazairy confirms what @Alfreddezayas also found during his visit to Caracas, as well as @ceprdc's recent report: US sanctions are KILLING VENEZUELANS. Anyone who supports these measures supports the deaths of tens of thousands of people. https://t.co/Vo7bhBxAm1

— Anya Parampil (@anyaparampil) May 6, 2019
Jazairy said he was "deeply concerned" that one state, the US, can "use its dominant position in international finance" to directly harm not only the Iranian people but "everyone in the world who trades with them." Along with ending the waivers, the Trump administration threatened any country continuing to trade with Iran with being slapped with sanctions themselves.
The sanctions on Iran had previously been lifted under the terms of the nuclear deal reached with the US, Russia and other European countries in 2015, but Trump tore up the deal in 2018 and has repeatedly urged European countries to do the same, so far without success.
The UN rights expert also slammed a US law which gives US citizens the right to file lawsuits against foreign companies profiting from properties that Cuba confiscated or nationalized after the 1959 revolution. This ignored protests by the EU and Canada and was "a direct attack" on European and Canadian companies in Cuba, the statement said.
Also on rt.com
With all eyes on Venezuela, Trump is quietly targeting Cuba
Jazairy called on the international community to challenge the US "blockades" which he said constitute a "threat to world peace and security." The international community must find peaceful and diplomatic resolutions to their political differences without letting the "arbitrary use of economic starvation become the new 'normal'," he added
Like this story? Share it with a friend!
You can share this story on social media: