VIDEOS appear to show Venezuelan military CLASH, make arrests after pro-Guaido group splits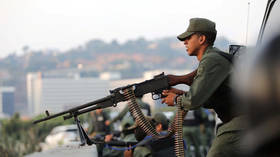 Videos appearing to show clashes between rival groups of the Venezuelan National Guard in Caracas have emerged online. One stand-off saw a group of soldiers arrest the other at gunpoint, while gunfire can be heard in another clip.
Footage filmed from several angles shows one of the groups blocking a road with armored vehicles and stopping rival soldiers from advancing. The first group then forces the soldiers to disembark from their vehicles and detains them at gunpoint.
It was not immediately clear whether the group that gained the upper hand supported the legitimate government of Nicolas Maduro or the self-proclaimed interim president Juan Guaido. Soldiers who defected to Guaido were earlier spotted donning blue armbands. However, given the low quality of the videos, it's hard to tell whether any soldiers wore such markings.
A separate video taken near La Carlota air force base, where civilians and defected soldiers backing Guaido have gathered to support the coup attempt, captured the moment when live ammunition rounds were fired in the background as people fled. Taken from a distance, the scene is quite chaotic and it's not clear who is firing the rounds.
Like this story? Share it with a friend!
You can share this story on social media: