WATCH tear gas fired on highway near Caracas air base where Guaido appeared in video with soldiers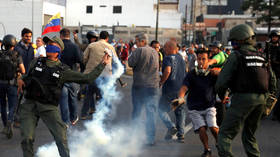 Tear gas has been fired as clashes broke out in Caracas following a video released by US-backed opposition leader Juan Guaido, in which he called for a full-scale military uprising against Venezuelan President Nicolas Maduro.
Maduro's spokesman has confirmed that a coup is underway in Venezuela, while the country's defense minister said: "We reject this coup movement that aims to fill the country with violence."
Footage shows tear-gas canisters being fired near the Generalisimo Francisco de Miranda, or 'La Carlota', air force base. One witness told Reuters that the gas is being fired towards Guaido, who appears to have gathered about 70 men in military uniform.
In one video taken close to the airbase, gunfire is heard erupting. Reports claimed that men in military uniforms, who accompanied Guaido, exchanged fire with Venezuelan soldiers.
National Guard armored vehicles have also been filmed on the streets of the capital Caracas.
Guaido, the self-declared interim president, released a video on Tuesday morning appealing to the Venezuelan military to take part in a coup. The footage was apparently shot at a Caracas airbase and followed an earlier tweet from Guaido, in which he claimed to be meeting with "key military units" for what he described as "the beginning of the final phase of Operation Freedom."
Also on rt.com
US-backed Guaido calls for Venezuela military uprising in VIDEO of him surrounded by soldiers
In a series of tweets, Venezuelan Information Minister Jorge Rodriguez said that government forces are "currently confronting… a small group of military traitors" who sought to "promote a coup against the constitution and peace of the republic." He urged Venezuelans to remain on "high alert" and support efforts to defeat the attempted coup.
Think your friends would be interested? Share this story!
You can share this story on social media: