Upgraded Russian SPY PLANE makes maiden flight over US nuclear & military sites – report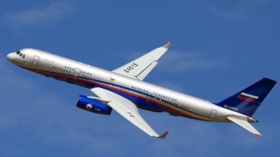 A Russian Tu-214ON spy plane has reportedly made a reconnaissance tour over the southwestern US, taking a glimpse at an array of military bases as well as nuclear and chemical weapons depots as part of the Open Skies treaty.
The Drive reported, citing FlightRadar 24 tracking service data, that the newest version of the Tu-214 observation aircraft graced US skies after taking off from Rosecrans Air National Guard Base in St. Joseph, Missouri on Thursday.
The flight reportedly lasted six hours and saw the surveillance aircraft fly over a series of US defense and storage facilities scattered over the territory of West Texas, New Mexico and Colorado. The plane is reported to have flown over the Kirtland Air Force Base, which hosts the Air Force Nuclear Weapons Center and functions as a nuclear storage site. In Colorado, the plane passed over the Pueblo Chemical Depot, one of the last two sites in the US with chemical munitions and materials.
The flight itself had been authorized by the US under the Treaty on Open Skies, which allows its signatories to conduct short inspections of each other's territory. The treaty was signed in 1992, but did not come into force until 2002. The US and Russia are among its 34 members.
Also on rt.com
Moscow's eye in US sky: Here's what we know about Russian spy plane cleared by Washington
The Russian Defense Ministry has not commented on the details of the mission. Earlier, Sergey Ryzhkov, head of the Russian Center for Reduction of Nuclear Threat, announced that the Tu-214ON would be conducting surveillance from Missouri Airport between 22 April and April 27. Under the treaty, the flight has to be monitored by US specialists on board the plane.
Washington eventually greenlighted the Tu-214ON flyover after initially refusing to certify the Russian "spy eye," claiming that its digital surveillance equipment was more advanced than Moscow had declared and might manipulate digital data. After some back-and-forth, the US approved the plane for the flights over its territory in September last year.
Also on rt.com
'Sign of good will': US spy plane carries out 1st observation flights over Russia in 2 years
Tu-214ON is an updated version of the regular Tu-214. Its cockpit can fit two more people, which allowed the manufacturer to install more modern electronics. Its range has increased to a reported 6,500km (4,040 miles). The aircraft boasts three sensor arrays that include a digital photo camera, an infrared camera, and a TV camera complete with a sideways-looking synthetic aperture radar.
If you like this story, share it with a friend!
You can share this story on social media: