Three explosions in Sri Lankan city as police search for Easter attackers - reports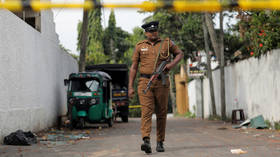 Three explosions have reportedly hit a city on Sri Lanka's eastern seaboard as the police and the army carry out searches targeting suspects from last weekend's deadly bombings.
The explosions took place in the city of Kalmunei as raids were carried out by the Army and the Police Special Task Force, Sri Lankan news outlet News First reported. There has been no immediate reports of casualties.
Sri Lankan city Kalmunei hit with 3 explosions - reportsPrevious attacks:- 9 suicide bombings- Over 200 killed- Christian churches & hotels targeted- ISIS claims responsibilityhttps://t.co/uWATh8bfmdVIDEO: Sri Lanka church bomber caught on cam moments before explosion pic.twitter.com/cbmTg0wQDO

— RT (@RT_com) April 26, 2019
Police have been conducting searches across Sri Lanka in the aftermath of the deadly suicide bombings on churches and hotels which killed more than 250 people. Islamic State (IS, formerly ISIS) claimed responsibility for the bombings.
A shootout earlier erupted nearby as police attempted to raid a location which was believed to have been used for the manufacturing of suicide vests. The searches led to the seizure of explosives and other bomb making materials as well as drones and an IS flag.
Nearly 10,000 soldiers have been deployed across the country carrying out searches and providing security for religious centres, a military spokesperson said. Police have detained more than 70 people including foreign nationals from Syria and Egypt as part of the investigations.
Like this story? Share it with a friend!