Kim's playlist: Here are Russian songs N. Korean ruler loves listening to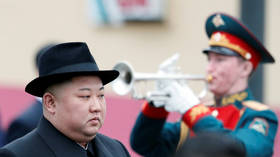 There's a couple of iconic Russian songs you may (or may not) have heard of, but they appear to be particularly fancied by North Korea's leader Kim Jong-un.
Kim, who made his first-ever visit to Russia this week, has a soft spot for three Russian songs, revealed Oleg Kozhemyako, governor of the Far East's Primorsky Krai. While they may sound a bit retro for Western ears, the tunes have been around in Russia and beyond for at least several decades.
1. Katyusha
Written on the eve of World War II, this is one of the most iconic Russian patriotic songs. Outside Russia, it is still popular in China, North Korea, Mongolia and other countries. 'Katyusha' was notably performed by a military brass band upon Kim's arrival to Vladivostok.
2. Evening in the Harbor
A little known war song, it was composed back in 1941 at which time the Germans were about to encircle Leningrad (now St. Petersburg), starting the bloody 872-day siege of Russia's second-largest city.
3. Million Scarlet Roses
A great hit by Alla Pugacheva, one of Russia's best-selling and most-renowned female artist, which she sang during her first and last concert in Pyongyang in 1989.
Like this story? Share it with a friend!