Pyongyang 'not bothered' by UN sanctions – North Korean minister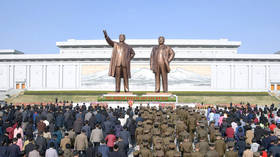 Washington has to change its approach to denuclearization talks, a senior North Korean minister said, adding that the UN sanctions are not a major headache for the country.
Pyongyang is "barely affected" by the economic restrictions imposed by the UN to tackle its nuclear pursuits, North Korean External Economic Affairs Minister Kim Yong-jae told Yonhap News Agency on Friday.
North Korea faced international backlash when it withdrew from the Nuclear Non-Proliferation Treaty in 2003 and later conducted a series of nuclear tests and ballistic missiles launches. A range of UNSC resolutions, among other things, banned arms trade with Pyongyang and imposed restrictions on exports and imports.
Also on rt.com
North Korea lambasts Bolton for 'dim-sighted' denuclearization remarks
The official claimed that the sanctions "don't bother" the authorities in Pyongyang, and that the national energy and electricity output has increased from last year.
Let them impose sanctions, for a hundred, or thousand years, if they wish – we cannot care less and are barely affected by them.
The minister also took a dig at Washington's approach to North Korea's nuclear program, indicating that officials in the US should revise their strategy.
These people must not do things the way they're doing them now, and have got to change their way.
The minister's words come just one day after North Korean leader Kim Jong-un discussed denuclearization with Russian President Vladimir Putin in Vladivostok.
Pyongyang's nuclear arsenal was also in the spotlight during the February Kim-Trump summit in Hanoi, which ended with both leaders abandoning the negotiations earlier than scheduled. North Korean officials later revealed that one of the reasons was Washington's hardline stance on the matter of sanctions, accusing Trump's team of a "gangster-like approach."
Also on rt.com
Putin welcomes Kim's efforts to normalize ties with US, hopes for denuclearization talks progress
If you like this story, share it with a friend!
You can share this story on social media: