Russian and Ukrainian envoys clash at UN Security Council over passports decree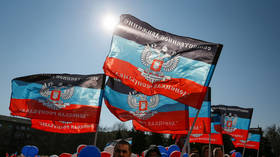 Ukraine has effectively outlawed four million of its own citizens, but Moscow won't force them to take Russian passports, Russia's UN envoy Vassily Nebenzia said responding to accusations from his Ukrainian counterpart.
The government in Kiev urgently requested a UN Security Council on Thursday, after Russian President Vladimir Putin signed a decree allowing residents of Donetsk and Lugansk regions in eastern Ukraine – which have declared independence from Kiev, but have not been recognized by Moscow – to request Russian citizenship via expedited procedure.
Also on rt.com
'Not as good as Poles or Romanians?' Putin defends offer of Russian passports to E. Ukrainians
Ukrainian envoy Volodymyr Yelchenko repeatedly accused Russia of "occupation" and "creeping annexation" of the two disputed regions, "forcing" people there to get Russian passports, and using the passports decree to make the implementation of the Minsk agreements impossible.
Yelchenko speculated that the real reason for the passports decision was that "Russia cannot hide anymore the presence of its regular military and mercenaries" in the region, calling it a "thinly veiled attempt to dismember my country."
The Ukrainian ambassador also claimed that "under Soviet domination" Ukraine was colonized by "Russian settlers" and that the current conflict was reminiscent of the 1939 Winter War between the Soviet Union and Finland, over which the USSR was expelled from the League of Nations. At one point, he even compared modern Russia to Nazi Germany, arguing that "appeasement of aggressor never stops him."
Russian ambassador Vassily Nebenzia pointed out that Kiev has not made any moves to implement any of the provisions of the Minsk agreements - citing specifically items 7 and 8 of the February 2015 protocol, providing for safe access and delivery of humanitarian aid and restoring social and economic connections between the two regions and the rest of Ukraine.
Instead, he said, "their living conditions have been made impossible by Kiev," with a complete blockade of the two regions by Ukraine, effectively "outlawing" almost four million people.
Between April 2014 and April 2019, Russia has taken in 925,548 people from the two regions, and is home to 2.3 million Ukrainians overall.
"No one is going to force these people to take a Russian passport," Nebenzya said. "We are not forcing them to become Russian citizens."
Kiev had effectively done nothing to support them, the diplomat stated. Residents of eastern Ukraine "had to survive despite everything that you've been doing," they were deprived of all pensions and benefits unlike other Ukrainians. To make matters worse, Ukraine's government ceased providing healthcare and education to those living in Donetsk and Lugansk.
Russia deliberately chose to bear a sizeable economic and financial burden to support these people, he said.
Think your friends would be interested? Share this story!