Clinking glasses & swapping swords: Watch highlights from Kim's summit with Putin (VIDEOS)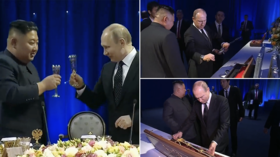 Kim Jong-un arrived in Russia on Wednesday for a short visit, traveling in his trademark train and with his famous running bodyguards in tow. From sword swaps to salty starts, here are some of the highlights so far of his trip.
The short official visit got off to a traditional start with 'karavai,' a type of bread, and salt being presented to the Korean leader upon his arrival.
In a rather unusual piece of protocol (but impressive feat of train maintenance), Kim's signature armored train was polished by his bodyguards as it rumbled into Vladivostok, before the fedora-wearing North Korean leader alighted to be greeted by Russian dignitaries.
It was all smiles as the two world leaders shook hands at their first-ever face-to-face meeting.
The two swapped swords as a symbol of the mutual respect between nations. Putin presented Kim with a Russian curved saber, and as the pair exchanged gifts the North Korean leader remarked: "[This sword] represents strength, it represents the soul – mine and that of our people, who support you."
Putin and his guest later wrapped up their hours of official talks with a lavish dinner, surrounded by a night sky-like canopy.
The pair appeared to bid one another a warm farewell as Kim and his entourage moved off on the close of the summit.
Like this story? Share it with a friend!
You can share this story on social media: