Flames seen shooting out of plane engine during takeoff (VIDEO)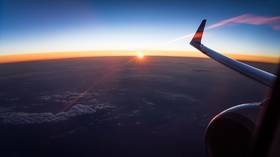 Shocking footage of a passenger plane shooting flames out of its engine, accompanied by terrifying thunderous bangs, has emerged online.
The plane's engine caught fire shortly after takeoff from Barcelona in Spain. The flight was run by Israeli airline Arkia, who rented the plane from Italian company Neos, and was bound for Tel Aviv before the flight crew was forced to turn the plane around.
No injuries were reported but footage of worried passengers on board the aircraft was also shared shortly after the incident.
An emergency was immediately declared and the aircraft maintained an altitude of 3,000ft before landing safely just 30 minutes after the initial takeoff.
Also on rt.com
Utair Boeing 737 engine spouts FLAMES on runway just before takeoff (VIDEO)
The Boeing 767 was reportedly 23 years old and had recently completed a flight from Thailand.
Think your friends would be interested? Share this story!