26yo man arrested with maps of Sri Lankan Parliament, assault rifle ammo
Published time: 25 Apr, 2019 08:19
Edited time: 26 Apr, 2019 07:27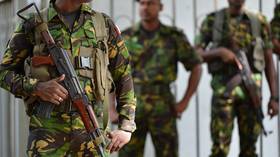 A 26-year-old man in possession of improvised maps of and six passes to parliament and assault rifle ammunition was arrested by Sri Lankan authorities overnight.
Local reports say police were responding to a tip-off when they found the 26-year-old carrying several parliamentary passes and a rough map marking out the road route to the parliament. They also found a vehicle which was possibly modified to carry a bomb, although no explosives have been found.
A canine unit was deployed to search for explosives but found nothing. Police recovered a tablet device, three mobile phones, a dozen SIM cards, T-56 assault rifle ammunition, and several credit cards during the raid.
Also on rt.com
Senior Sri Lankan officials 'withheld intel on terrorist attacks'
Sri Lanka has deployed thousands of troops to hunt for suspects connected with the horrific Easter bombings. The raid was launched thanks to an anonymous tip-off following the Easter Sunday bombings which killed over 350 people, injuring an additional 520. Islamic State (IS, formerly ISIS) claimed responsibility for the attacks.
The as yet unnamed 26-year-old suspect is due in court Thursday. Overall, the number of people arrested in connection with the attacks has risen to over 100, and eight of the nine suicide bombers have been named so far.
Sri Lankan President Maithripala Sirisena asked his defense minister and chief of police to resign Wednesday.
Also on rt.com
Blast heard behind court outside Colombo, Sri Lanka
Sri Lankan police arrested a further three people, seizing 21 grenades and six swords during a raid in Colombo, though authorities did not specify whether the raids were directly related to the Easter Sunday bombing investigation.
Police forces from at least six countries are assisting Sri Lankan authorities with their investigations, including Scotland Yard, the FBI, the New Zealand Police, the Australian Federal Police, Danish and Dutch police, and Interpol.
It has also emerged that one of the suicide bombers, Ilham Ahmed Ibrahim, the son of a billionaire spice tycoon, was previously arrested and subsequently released by police.
"It was the suicide bomber of the Cinnamon Grand bomb attack who was released earlier," Sri Lankan government spokesman Sudarshana Gunawardana said. Ibrahim's father, Mohamed Yusuf Ibrahim, has been arrested on suspicion of aiding and abetting his sons.
Think your friends would be interested? Share this story!