Israeli Army not prepared for war – Hezbollah leader Nasrallah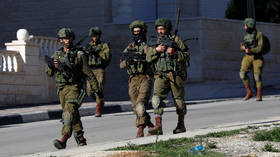 Hezbollah leader Hassan Nasrallah has ruled out a summer of war with Israel, denying reports his Lebanese Shiite organization was planning for military conflict. He said the Israel Defense Forces (IDF) are not prepared for battle.
Responding to the information by Kuwait's al-Rai newspaper about a simmering stand-off in the coming months, the leader of Hezbollah said the newspaper was "mistaken."
Also on rt.com
'Declare war on Lebanon, take out Syria's S-300s': Outgoing Israeli general on handling neighbors
"I lean in the direction that Israel is unlikely to carry out a war on Lebanon," Nasrallah said, as quoted by the Israeli media.
"This is my personal opinion," he added.
He argued that despite Israel boasting about their missile defense system, it cannot defend its own citizens against the threat of Hezbollah's rocket attacks.
Nasrallah mocked Israel's military defense capabilities, highlighting their response to two rounds of rocket fire launched by his group. The rockets, one of which landed in Tel Aviv and the other just north of the city in mid-March, were not intercepted by Israel's Iron Dome missile defense system
"All the Israeli measures were not able to do anything," he claimed, referring to the most recent round of violence between Israel and Hamas.
The last time Hezbollah and Israel engaged in a war was in 2006, which saw up to 1,300 Lebanese people killed and 165 Israelis die. Tensions have remained high along the Israeli northern border ever since.
Think your friends would be interested? Share this story!
Subscribe to RT newsletter to get stories the mainstream media won't tell you.