VIDEO shows China's 1st home-built aircraft carrier in action during sea trials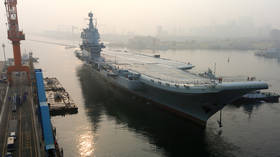 A new video released by Chinese state TV shows fighter jets taking off from its first domestic-built aircraft carrier. The 77,000-ton Type 001A vessel is expected to be put into service as early as this year.
The 30-second footage shows the carrier undergoing the fifth and latest of its trials, conducted from February 27 to March 5, the South China Morning Post reported.
The vessel, which is an upgrade to the 'Liaoning,' China's only operational aircraft carrier, "underwent full testing and demonstration of its command system and combat capabilities," it reported, citing CCTV report.
The trials were conducted off the coast of the northeastern port of Dalian.
The video shows a row of technicians attending to the panels as the carrier is gliding though waters at a high speed. A radar integrated with a mast and a weapon system mounted on the deck and capable of fending off artillery and rocket fire can be seen in the clip. The ship is fitted with a ski-jump flight deck which has enough space for up to 32 J-15 fighter jets, six more than its predecessor.
The Type 001A which is yet has to be named is not expected to be showcased during an annual fleet review on Tuesday, marking the 70th anniversary of the Chinese Navy. The review would feature some 32 Chinese military vessels, including 'Liaoning,' as well as vessels from 10 foreign countries.
The carrier was originally expected to not enter military service until 2020. However, it is now believed to become operational by October, ahead of major festivities to celebrate the 70th anniversary of the country.
Also on rt.com
China races to equal US military might with 4 nuclear aircraft carriers by 2035 – experts
Type 001A is a slightly upgraded version of 'Liaoning,' the half-built Soviet Union's Kuznetsov class carrier China bought from Ukraine and refitted. The 'Liaoning' has been used as a training stage for aircraft carrier crews and is expected to be decommissioned whilst the up-and-coming Type 001A is set to be used in regular operational service.
The Type 001A can develop the speed of 31 knots or 57 km/h and has a total displacement of about 70,000 tones.
The aircraft carrier is only one element of the Chinese Navy build-up that will see Beijing having six aircraft battle groups by 2035, including four nuclear-powered.
The Type 002 aircraft carrier, an upgrade of the Type 001, that will feature three steam catapults allowing jets to take off with heavier load has been already under construction and is expected to enter service in 2023.
Think your friends would be interested? Share this story!
You can share this story on social media: