'Assaults on all humanity': Turkey's Erdogan condemns Sri Lankan bombings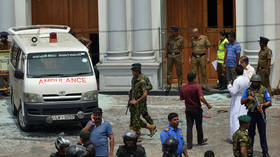 Turkish President Recep Tayyip Erdogan has condemned the bombing attacks on Christian churches and hotels in Sri Lanka, which happened during the celebration of Easter.
Erdogan offered Turkey's condolences to the families of victims and a speedy recovery to the hundreds of people who were injured by Sunday's bombings.
I condemn in the strongest terms possible the Easter terror attacks in #SriLanka. This is an assault on all of humanity.On behalf of the Turkish people, I offer my condolences to the families of the victims and the people of #SriLanka, and wish a speedy recovery to the injured.

— Recep Tayyip Erdoğan (@RTErdogan) April 21, 2019
Meanwhile, Turkish Foreign Minister Mevlut Cavusoglu compared the attacks to the recent shooting in New Zealand, in which a white nationalist gunned downed 50 people at two mosques in the city of Christchurch.
No matter what the motive is, the heinous terror attack in Sri Lanka is the same as the one in #Christchurch: cowardly, barbaric and cruel. Terror has no religion, no nation, no geography. Condolences to the people of Sri Lanka.

— Mevlüt Çavuşoğlu (@MevlutCavusoglu) April 21, 2019
An increasing number of international officials have joined in condemning the bloodiest act of violence that Sri Lanka has since the end of its civil war a decade ago. No group has claimed responsibility for the attacks, which claimed over 150 lives and resulted in the hospitalization of at least 400.
Think your friends would be interested? Share this story!