3 more killed as 8th explosion hits Sri Lanka during series of deadly attacks – police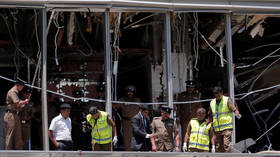 Three more people have died in a new explosion in Colombo, Sri Lanka's largest city, shortly after some 160 people lost their lives in seven blasts that hit luxury hotels and Catholic churches during Easter celebrations.
A suicide bomber killed three people in central Colombo, AFP reported, citing police.
This adds to the seven explosions that have rocked three packed Catholic shrines and four high-end hotels in Sri Lanka so far on Sunday, as the island's Christian worshippers were gathering for Easter masses.
Also on rt.com
7th explosion reported near Sri Lanka's largest city Colombo – police
No group has so far claimed responsibility for the apparently coordinated attacks. Sri Lanka's defense ministry has declared a curfew, which is set to last from 6pm to 6am.
Think your friends would be interested? Share this story!