Weary Ukrainian voters face ultimate choice between comedian & politician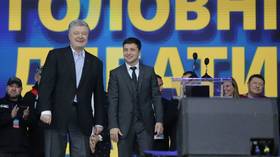 After three weeks of flashy and outrageous campaigning, comedian Volodymyr Zelensky and incumbent president Petro Poroshenko are facing off in a battle for the country's top job.
Worn out by internal strife, rampant corruption and a crumbling economy, Ukrainians are poised to elect a president five years after the upheaval of the 2014 Maidan protest.
They are picking between two very different candidates. One is the experienced but scandal-mired incumbent Petro Poroshenko, who has built his message almost entirely around waging a perceived war with Russia. The other is the country's top comedian, Volodymyr Zelensky, who shot up to dominate the polls in the past year, despite having zero real political background (unless you count playing the president on TV).
Political circus at its weirdest
Neither candidate has shied away from bare-knuckle campaign tricks, attacking each other's weak spots and using barely-ethical visual messaging. The three weeks between the first round (which saw Zelensky beating Poroshenko two-to-one) and the run-off were a full-fledged show, which climaxed in Friday's debate, held in Ukraine's largest stadium before a crowd of some 22,000.
The debate ended up focusing on the same talking points that have been bandied about in the past weeks. Zelensky read out lists of Ukrainians' grievances with the incumbent, letting him pick any that he'd likes to respond to. Instead of responding, Poroshenko, flanked by soldiers to give weight to his point, thundered on about the "war" with Russia and Zelensky's inexperience.
Also on rt.com
Drug tests & stadium debate: How Ukraine presidential duel has turned into a reality TV SHOW
In his campaign, Zelensky used short, flashy video clips as his main campaign tool, sending out public challenges (including the challenge to have the stadium debate) to his opponent. His main avenues of attack exploited Ukrainians' grievances against Poroshenko, including his rumored alcohol abuse and swirling corruption scandals.
Poroshenko's stunts included crashing a talk show on Zelensky's TV channel to give the comedian an on-air phone call and demand a debate (Zelensky was in Paris at the time), as well as arriving to the stadium a week early and pointedly waiting for Zelensky to show up despite him having said he wouldn't.
Among the more underhanded attacks was a clip, edited from one of Zelensky's own, where the comedian gets hit by a truck, followed by what looks like a line of cocaine. Poroshenko's team denied making it, though, but called it "funny."
Corruption vs. Puppetry
One of the main grievances that is causing Ukrainians to turn away from Poroshenko is his failure to tackle corruption, including that within his own inner circle. In the most recent scandal, he had to fire the deputy head of his Security and Defense Council, after an embezzlement scandal in the state defense company. Before that, Interior Minister Arsen Avakov said he had uncovered a scheme to buy votes, with a $600 million budget; Poroshenko has denied knowledge of this.
All this led Poroshenko to promise he would stop appointing any more "friends and business partners" to high-level positions – which didn't seem to help his pre-run-off polling much. Before Friday's debate, Zelensky even joked that, had his opponent fulfilled his promises to chop off corrupt officials' hands, he wouldn't have a hand for Zelensky to shake once they finally meet (they did shake hands in the end, and both Poroshenko's seemed to be intact).
Also on rt.com
Ukraine election reality TV: Puppets and chopped-off hands in final debate warm-up
Poroshenko and his supporters' main shtick is calling Zelensky a puppet of Igor Kolomoysky, an influential Ukrainian billionaire who has been at daggers-drawn with the incumbent. Kolomoysky owns the TV channel which hosts both Zelensky's shows and campaign messaging, but the comedian maintains that the oligarch has no control over his political decisions.
Whose Crimea?
Poroshenko's go-to tactic is betting on the perceived outside enemy that is Russia. In fact, he has dragged Russian President Vladimir Putin into his campaigning at every opportunity, basically claiming that if he doesn't win, Putin will. He has accused Zelensky of lacking the mettle to stand up to Moscow and of wanting to hold talks with the rebel self-proclaimed republics in the country's East – something seen as inconceivable by default in modern Ukrainian politics.
Zelensky, in fact, said he would only talk to the easterners' "Kremlin handlers" (whose existence is the accepted official belief in Kiev) and, like Poroshenko, would do all in his power to return eastern Ukraine into the fold – but promised a cease fire as soon as he takes office.
Also on rt.com
Ukraine election: Cornered Poroshenko 'debates himself' as frontrunner Zelensky skips event
On the matter of Crimea, which rejoined Russia after overwhelmingly choosing to do so in a 2014 referendum, the two candidates differ more significantly – and both are rather vague. Poroshenko simply says that returning Crimea to Ukraine would be his first priority, while Zelensky says it will have to wait until a change of power in Moscow.
A tired nation's choice
In the end, it's a valid question whether Ukrainians are motivated to vote by the candidates' political promises – or by the sheer weariness of the past turbulent years. Zelensky is not a politician (yet), but they have gone with politicians before – and look where it got them. The fact that the fresh face is a beloved TV personality, a comedian no less, is just a cherry on top, and more than one Ukrainian is probably going to the polls for the sheer "why the hell not" of it.
The nation's disappointment in Poroshenko is what ultimately gave birth to the phenomenon that is Zelensky. It sounds like what the comedian said during Friday's debate is true: he's not really Poroshenko's "opponent," but rather his "sentence."
Also on rt.com
'I'm not your opponent, I'm your sentence!' Ukraine presidential hopefuls trade jabs in last debate
Like this story? Share it with a friend!
You can share this story on social media: