'Future nightmares': Twitter users can't handle VIDEO of truck-pulling robot dogs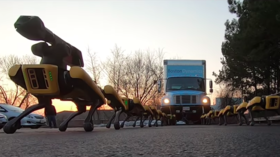 A pack of dog-like robots pulling a truck along a road has social media blowing up as people freak out over the impressive, yet unnerving, display of mechanical strength.
Boston Dynamics released a video of its SpotMini robots showing off their latest trick, joining forces to pull a truck along a road in freakish unison. The sound of the robot's metal legs marching on the pavement adds a creepier element to the already ominous video.
The video also shows the moment the 10 robot dogs 'come to life' and rise from their sitting position to stand at exactly the same time before starting to heave the truck along the road.
Many Twitter users expressed sheer horror that the robot apocalypse is coming, with a number of people pointing out how similar the robots are to the killer dog-like bots from the Black Mirror episode, Metal Head.
Boston Dynamics pointed out that the robot dogs were pulling the tuck around "one degree uphill, truck in neutral," but the footage is impressive nonetheless.
Like this story? Share it with a friend!
You can share this story on social media: