Safe space: PepsiCo scraps rumored 'orbiting billboard' plans (PHOTOS, VIDEOS)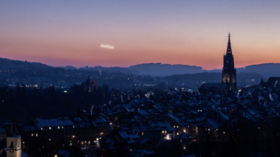 Russian startup StartRocket has reportedly partnered with PepsiCo in an "exploratory test" of orbital advertising capabilities in a move which is sure to horrify astronomers, environmentalists and, well, just about everyone.
"Adrenaline Rush (owned by PepsiCo Russia) became the test launch partner," StartRocket told Futurism in an email. "The Adrenaline GameChangers logo — a newly created movement whose goal is to campaign against stereotypes and unjustified prejudices against gamers — will be the first branded image on the StartRocket orbital display after its launch."
Footage of the test, carried out in conjunction with Russia's Skolkovo Institute of Science and Technology, or Skoltech, conducted at Pereslavl-Zalessky, Yaroslavskaya Oblast on April 7 was shared by StartRocket CCO Vlad Sitnikov.
The Russian company stole the headlines in January this year, with its ambitious, if abrasive, proposal to place an orbital formation of cube satellites at an altitude of 400-500 kilometers (248-310 miles) to advertise to a "potential audience of 7 billion people" using a display measuring 50 square kilometers across (19 square miles).
StartRocket plans to launch its first Orbital Display by 2020, displaying corporate logos for slots of six minutes between three and four times a day by 2021.
Also on rt.com
Goodbye darkness, my old friend: Russian startup wants to place luminous ads in low-Earth orbit
However, PepsiCo has now, rather clumsily, assuaged fears of a night sky takeover, saying it was merely an "exploratory test," with no plans to pursue the abominable advertising plan in future, despite statements to the contrary by the company's Russian spokesperson.
"Orbital billboards are the revolution on the market of communications," Olga Mangova, a spokesperson for PepsiCo Russia, told Futurism, adding that it's true the company would deploy orbital billboards to advertise PepsiCo products in future. However, following a slew of reports online, a spokesperson for PepsiCo in the US stepped in to walk back those remarks.
"We can confirm StartRocket performed an exploratory test for stratosphere advertisements using the Adrenaline GameChangers logo," a PepsiCo spokesperson told RT.com in a statement by email. "This was a one-time event; we have no further plans to test or commercially use this technology at this time."
While Pepsi has been known to court controversy with its advertising campaigns in the past, polluting the night sky appears to be a step too far, for now at least.
Also on rt.com
Pepsi apologizes, pulls controversial Kendall Jenner protest ad
RT.com has contacted PepsiCo for official comment and clarification about the StartRocket partnership. StartRocket has yet to launch any satellites into orbit and the company is currently working to raise $25 million initial funding but it remains unclear how much of this has been accumulated.
Think your friends would be interested? Share this story!
You can share this story on social media: