Trump opens Cuba up to property confiscation lawsuits, angering allies & foes alike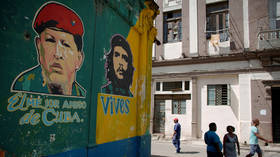 The Trump administration is set to permit lawsuits against Cuba over property confiscated in the revolution, in a bid to dismantle the 'troika of tyranny' resisting Washington's total dominance in what it sees as its 'backyard.'
Cubans who fled to the US under Fidel Castro's government will be able to sue companies using their former property under a 1996 law that went unenforced until President Donald Trump seized on it earlier this year as a potential weapon to pressure Cuba into dropping its support for Venezuelan President Nicolas Maduro, after the country refused to support US-backed opposition leader Juan Guaido when he declared himself president in January.
Also on rt.com
'Arbitrary & unacceptable threat': Havana slams Trump for 'allowing' lawsuits against Cuban firms
The Trump administration is expected to announce the measure on Wednesday after last month's soft rollout, which limited lawsuit targets to about 200 businesses and government agencies already under "enhanced" sanctions due to their links with Cuba's government. No lawsuits have yet been filed under the new rules, though the State Department says there may be as many as 200,000 potential claims by plaintiffs including multinational corporations – who may be reluctant to file lawsuits that could effectively target their own overseas clients.
Previous presidents have avoided activating the provision because of the torrent of litigation it could unleash against joint ventures run by US allies in partnership with the Cuban government. While the US has maintained its embargo against the Cuban government for over half a century – aside from the short-lived attempt by Trump's predecessor Barack Obama to relax the harsh economic sanctions – many of its allies do business with Cuba. While Trump appears to value punishing Cuba for its alliance with Maduro over making nice with America's European allies, critics argue that Americans will be affected by the new law as well.
"This decision punishes the Cuban people and American companies – companies who were given permission by the US government to do business and are now having the rug pulled from underneath them," James Williams, President of anti-embargo group Engage Cuba, told Bloomberg. Existing "carve-outs" in the Helms-Burton provision reportedly protect American companies in some areas, specifically the travel industry and telecoms, though it's unclear whether those exceptions also cover companies belonging to US allies operating in those sectors.
Also on rt.com
'Troika of tyranny'!? US sanctions entirety of Venezuela, warns Cuba & Nicaragua 'you're next'
The US move is a violation of international law, EU ambassador to Cuba Alberto Navarro told a press conference. Canada, France, Spain, the UK, and other countries with large Cuban investments have threatened to sue through the World Trade Organization if the US attempts to interfere in their dealings with a sovereign nation.
Cuba has volunteered to reimburse owners of confiscated properties – if the US first reimburses the Cuban government for the billions of dollars in damages resulting from its 60-year embargo.
Like this story? Share it with a friend!
You can share this story on social media: