Iranian parliament declares US Central Command a 'terrorist organization'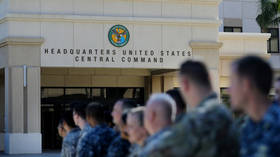 The US Central Command (CENTCOM) has been designated as a "terrorist organization" by the Iranian parliament, in a mirror response to Washington's blacklisting of Tehran's Revolutionary Guard.
All organizations, institutions and forces under CENTCOM command were acknowledged to be "terrorists" by the overwhelming majority of the Iranian MPs, who approved the contents of the bill, which also condemns the US move to blacklist the IRGC, an official military branch of the Islamic Republic of Iran's Armed Forces.
"The Islamic Republic of Iran's government and Armed Forces are required to adopt preventive actions and preemptive defensive measures whenever necessary, to deter any hostile US forces' use of any possibilities against the Islamic Republic of Iran's interests," the bill states, according to Fars news. Anyone offering military, intelligence, financial, or any other support to CENTCOM and its affiliate forces will be considered supporters of terrorism.
Also on rt.com
US designates Iran's Revolutionary Guards as terrorist organization – Trump
The 13-article legislation also mandates the general staff to begin gathering intelligence about CENTCOM activities so that the material can be used in Iranian courts to prosecute specific individuals. The bill, however, does not mention the exact mechanisms through which Americans are expected to be brought to justice under Iranian laws.
Last week the US, for the first time ever, designated an official foreign military institution –the IRGC– as a terrorist organization, as tensions between the states were pushed to the limit following President Donald Trump's unilateral withdrawal from the Iranian Nuclear deal (JCPOA) and the reintroduction of sanctions that followed.
Also on rt.com
US labels Iran's Revolutionary Guards as 'terrorists'. But who are they?
The Islamic Revolutionary Guard Corps has been the elite force of the Islamic Republic under the Grand Ayatollah Ruhollah Khomeini for the last 40 years, after overthrowing the US-backed Shah Mohammad Reza Pahlavi. While Washington claims that various branches of the IRGC actively participate in Tehran's "global terrorist campaign," Iran accuses the US of fearmongering and of waging a smear campaign against it.
Like this story? Share it with a friend!
You can share this story on social media: