Prayers, music and candles: Thousands hold vigil near Notre Dame Cathedral (PHOTO, VIDEO)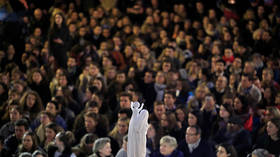 Parisians have gathered again to pray and sing hymns the day after a devastating fire ripped through the iconic Notre Dame Cathedral, destroying its spire and roof and prompting an outpouring of sympathy from around the world.
People have been converging at the Saint-Michel public square near the world-renowned cathedral, singing religious songs and praying together, with the severely damaged cathedral as the backdrop.
The scenes of prayers and song began on Monday evening as Parisians and tourists flocked to the streets surrounding the cathedral, watching in horror as firefighters battled the powerful blaze. Some were even seen on their knees, praying that the magnificent structure could be saved.
The church's spire collapsed along with sections of the building's roof, but after more than 12 hours, emergency crews managed to get the fire under control, saving the structure of the building and preventing cultural relics and artwork inside from being destroyed.
French officials have said there is no evidence to suggest the fire was caused by arson and the most likely explanation is that it was simply an accident. France's richest billionaire families pledged more than €600 million to rebuilding efforts in the 24 hours since the fire began.
Like this story? Share it with a friend!
You can share this story on social media: