No sign Notre Dame fire was intentional – Paris prosecutor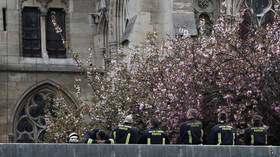 A preliminary investigation into the fire which heavily damaged the Notre Dame Cathedral in Paris on Monday found no evidence that the incident was a case of arson, the city's public prosecutor said.
"We are favoring the theory of an accident," Remy Heitz told journalists. "No evidence indicates it was an intentional act."
The French official said 50 people are involved in the investigation into the devastating fire. They are currently questioning workers who were present at the moment the fire broke out.
The devastation of the Notre Dame Cathedral on Monday is the highest-profile loss of France's historical legacy in decades. The Paris Fire Department deployed 400 people in response to the blaze, which raged for hours before finally being contained.
Also on rt.com
Notre Dame suffers 'colossal' damage as firefighters avert 'worst case scenario' (INTERIOR PHOTOS)
The fire destroyed two-thirds of the roof and caused the collapse of the spire, which was undergoing reconstruction at the time.
If you like this story, share it with a friend!