Police probe workers of third-generation roofing firm tasked with Notre Dame spire restoration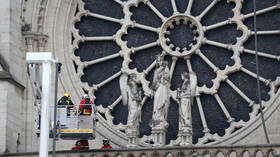 French authorities are investigating the cause of the blaze, which devastated Notre Dame Cathedral. Respectable company Le Bras Freres, which has vast experience in restoring roofs of historic buildings, is in the spotlight.
Police said Tuesday they had identified the workers who were at the roof of Notre Dame de Paris a day earlier when the colossal fire erupted and nearly wiped out the iconic 850-year-old Gothic church. Investigators will question people involved to establish how the fire broke out and got out of control.
The difficult task of renovating the spire of the cathedral, which was added to the building in mid-19th century after an older Medieval structure weakened over time and had to be removed, fell on a company called Le Bras Freres (Le Bras Brothers).
The firm, which is based in Jarny in the Meurthe-et-Moselle department of north-eastern France, is a respectable enterprise with decades of experience which includes restoring roofs of some of France's most-treasured historic buildings. Founded in 1954, it's a family business that is currently undergoing a transition to the third generation.
Its portfolio of special projects includes the 2-million-euro restoration of the dome of Pantheon, the French national mausoleum. The company also worked on the Louvre Museum in Paris, the Arles Amphitheatre, and the Royal Chapel at the Versailles. The Notre Dame project was the tenth for the firm involving a historic church.
Together with its subsidiary, Europe Echafaudage (Europe Scaffolding), Le Bras Freres employs some 180 people. A 25-million-euros turnover in 2017 allowed it to invest some 5 million euros into new equipment and extension of premises last year.
The Notre Dame restoration project involved erecting a complex scaffolding system which survived the fire and can be seen in the images showing the aftermath of the blaze. It included a lift, which could go up and down the 91-meter (299 feet) spire. The work was launched late last year, but workers barely started restoring the spire itself before it was destroyed in Monday's fire.
Think your friends would be interested? Share this story!
You can share this story on social media: