Leaked document reveals EXTENSIVE French & US efforts to aid 'inefficient' Saudi military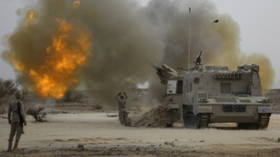 France and the US play a deeper role in Saudi war efforts than acknowledged, a leaked military document reveals. Nonetheless, it seems the "inefficient" Saudi army has had some trouble taking advantage of their allies' efforts.
Obtained by the French investigative news organization Disclose, the "highly classified document" by the French Directorate of Military Intelligence from September of last year harshly criticizes the Royal Saudi Armed Forces (RSAF) for their inability to take full advantage of their amazing arsenal to more effectively wage their brutal war against Yemen.The report was originally intended as a briefing for a cabinet meeting which included French President Emmanuel Macron and the Minister of the Armed Forces Florence Parly.

Saudi Arabia's war in Yemen is widely seen as one of the largest scale human-rights nightmares taking place today. A UN report from last November places the civilian casualty count at 17,640 since the war began in 2015, which is not to mention the epidemic spread of disease and mass displacements it has caused.
According to the leaked briefing, the Saudi coalition is extremely dependent on Western-produced weaponry, especially considering that a lot of their military hardware is only compatible with parts produced in NATO countries, implying a sharp contradiction to Trump's claim that the US sells the weaponry to prevent competitors from doing so. The list of munitions employed by the Saudis is extensive, including American F-15s, Apache attack helicopters, Abrams tanks and numerous artillery guns.
While it is no secret that the US and France provide weapons, French officials have been rather shady about providing any details. France's Minister of the Armed Forces Florence Parly told public radio in January that the country "[doesn't] sell weapons like they're baguettes," and hadn't "recently" provided any that Saudi Arabia could use in war efforts.
The list of French weapons 'not to be used in war' include armored vehicles, long-range artillery, fighter-planes and laser-targeting technology. The technicality seems to be that these weapons have not been observed on "active fronts," and have mostly been put in place for "defensive purposes." While the report does not provide any details on whether or not the weapons have been used against civilians, one map puts an estimated 430,000 of them within the French artilleries' firing range.
The report also revealed that despite hand holding by the most powerful militaries in the world, the Saudi Kingdom has dropped the ball in putting it all to good use. One example refers to the Saudi armed forces failure to make use of intelligence provided by US drones, which have been employed to gather intelligence on Houthi controlled territory:
If the RSAF benefits from American support, in the form of advice in the field of targeting [by American drones], the practice of Close Air Support (CAS) is recent and appears poorly understood by these crews.
This seems to be in direct contradiction to a statement made to the Intercept by a CENTCOM spokesperson, who reportedly said that the US does not provide targeting support to Saudi Arabia. CENTCOM's email statement supposedly underlines that the US' role is "advisory only."
Also on rt.com
Trump pumps new poison into US confrontation with Iran (by George Galloway)
Despite Congress beginning to push President Trump to stop providing weapons to the Saudis, he has been resolute in keeping the lucrative arms sales in-tact, resulting in some serious blowback. The documents could also end up being a headache for the French president who has defended the country's arms sales while downplaying any knowledge about how they are used.
Like this story? Share it with a friend!