Stricken Fukushima plant's dangerous atomic fuel being pulled from site after 8 years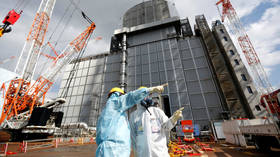 The extremely delicate, and dangerous, process of removing atomic fuel from the highly contaminated scene of Japan's Fukushima power plant explosion has finally begun, four years later than initially scheduled.
On Monday, the plant's operator, Tokyo Electric Power Co (TEPCO), started removing the fuel from inside a building that housed one of the reactors which disastrously melted down in 2011. TEPCO estimates it will take about two years to remove the more than 560 units of nuclear fuel from the devastated site.
Also on rt.com
Japan reopens city abandoned after 2011 Fukushima nuclear meltdown
In 2011, the Fukushima Daiichi power plant became home to the world's worst nuclear disaster since Chernobyl, when a deadly earthquake and tsunami killed more than 18,000 people and caused three reactors to melt down. Towns and cities nearby were evacuated, and many people have yet to return to their homes.
High radiation levels at Fukushima mean technicians have to use remote-controlled equipment to remove the fuel. However, just hours after the long-delayed operation began, it was briefly halted because of technical issues.
READ MORE: Fukushima prosecutors demand TEPCO execs get 5 years for negligence that led to nuclear meltdown
Molten nuclear fuel remains embedded deep inside the reactor, and its removal will be the most challenging of the entire clear-out. The company is also responsible for disposing of large amounts of contaminated water from the site.
The cleaning op was delayed for years due to the technical challenges involved and because teams had first to clear earthquake debris from the building, according to TEPCO spokeswoman Yuka Matsubara.
Think your friends would be interested? Share this story!
You can share this story on social media: