Ecuadorian police mistook Swedish tech geek 'linked to Assange' for Russian – lawyers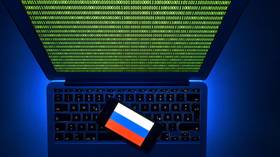 The Russian scare seems to have reached the shores of Ecuador, with lawyers for Ola Bini, a Swedish software developer arrested in Quito over his links to WikiLeaks, saying police erroneously believed he was a Russian citizen.
Bini was apprehended on Thursday afternoon as he was about to board a flight from the Mariscal Sucre International Airport to Japan. Ecuadorian Interior Minister Maria Paula Romo confirmed the identity of the detainee on Friday, stating that the software developer was being held for investigative purposes.
"This person is linked to WikiLeaks, he has visited the Embassy of Ecuador in London on 12 separate occasions of which we have a record," Romo told a local radio station on Friday. She also said that Bini is believed to be an associate of former foreign minister Ricardo Patino, who was the top diplomat in Rafael Correa's government.
Also on rt.com
'Swedish software developer' linked to WikiLeaks arrested in Ecuador in flight attempt – reports
Previously, Romo said that a foreign national and two "Russian hackers" are being investigated for interfering with private communications and an attempt to disrupt the government.
However, as the story developed, a number of lapses and violations by the Ecuadorian authorities emerged. On Friday, Bini's defense attorneys issued an extensive communique on his arrest, accusing police of sidestepping basic procedures in a rush to detain a suspect.
The lawyers revealed that Bini was arrested following a tip-off received by police on April 11 via a crime hotline from a citizen named "Marco." He told police that the suspect was Russian, a fact that the Ecuadorian police apparently neglected to double check before taking Bini into custody. They say that when police approached Bini, they showed him a warrant issued for a Russian citizen and, after realizing he was not, asked for his passport to issue a new warrant.
The detention of Bini until an order was reissued was a violation of his rights, the lawyers argue, since police had no valid document justifying his arrest. The lawyers say that Bini was not provided with an interpreter, though he does not speak Spanish, nor was he read his rights immediately. Lawyers could not access Bini until 8am the next day. Before that time, Bini did not receive any legal help and was interrogated while still at the airport.
Also on rt.com
There's no evidence to justify Assange's eviction, Snowden's lawyer says
Their statement calls on Ecuador's ombudsman office and civil organization to oversee Bini's case taking into account the irregularities that have already happened. Lawyers say that Bini had no intention of 'fleeing' Ecuador and the trip to Japan had been planned a month ago.
In addition to the apparent procedural lapses, Patino, Bini's supposed co-conspirator, claims he has never heard of Bini.
"The interior minister said that a Swede who was arrested yesterday works with me. I have never seen or met him in my life, I have not traveled with him, nor do I know Russian hackers," he tweeted, adding that the only Russians he knows are President Vladimir Putin, Russian Foreign Minister Sergey Lavrov, and the Russian ambassador.
Bini is known as an open-source advocate who worked for a company specializing in privacy, cryptography and security. His arrest sparked protest on Twitter, with fellow members of the open-source software community calling for his immediate release.
Think your friends would be interested? Share this story!
You can share this story on social media: