'Please don't waste this time': EU leaders agree to extend Brexit deadline until October 31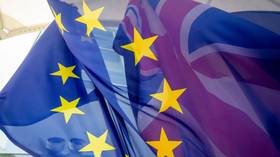 EU leaders at an emergency summit in Brussels have agreed to delay a ruling on Brexit, European Council President Donald Tusk said, granting UK PM Theresa May the reprieve she had requested.
The Brexit deadline has been extended to October 31, Tusk tweeted. Another review is scheduled for June, Maltese Prime Minister Joseph Muscat has indicated.
EU27/UK have agreed a flexible extension until 31 October. This means additional six months for the UK to find the best possible solution.

— Donald Tusk (@eucopresident) April 10, 2019
Tusk announced that he would meet with May to confirm the UK government's agreement to the extension of Article 50, though he did not disclose the length of the extension himself. The UK Parliament backed May's proposal to extend the deadline to June 30 earlier this week, while Tusk recently proposed a delay of up to a year.
The extension means the UK will be obligated to take part in next month's EU parliamentary elections.
"I know that there is huge frustration from many people that I had to request this extension. The UK should have left the EU by now and I sincerely regret the fact that I have not yet been able to persuade parliament to approve the deal," May told a news conference. "But the choices we now face are stark and the timetable is clear. So we must now press on at pace with our efforts to reach consensus on a deal that is in the national interest," she said, adding that she would not pretend the coming weeks "will be easy or there is a simple way to break the deadlock in parliament."
"It's true that the majority was more in favor of a very long extension. But it was not logical in my view, and above all, it was neither good for us, nor for the UK," French President Emmanuel Macron said, claiming his position was "for the collective good."
"We will have a Brexit with a deal. I'd prefer no deal without Brexit," European Commission President Jean-Claude Juncker told a news conference.
"Please don't waste this time," warned Tusk.
May wrote to Tusk seeking an extension on Brexit last week, after three failed attempts to pass her Brexit deal through parliament left the UK facing the possibility of being bounced out of the EU without a deal on Friday.
The UK PM has said she believes June 30 offers ample time for the warring factions of her government to agree on a deal, though she told members of the EU Council on Wednesday that she would accept a longer extension as long as it included a "get-out-early clause" in case an agreement was reached. She even hinted that this could happen as soon as May 22, avoiding the issue posed by an outward-bound UK having a say in EU elections.
May and Labour Party leader Jeremy Corbyn plan to resume discussions on Thursday. Talks to work out a transpartisan compromise appeared to stall last week, with May unable to offer "real change or compromise" in the form of policy concessions or amendments to her proposed deal, according to Labour representatives.
Corbyn has joined members of May's own Conservative Party in calling for her resignation over her bungling of Brexit. While she has said in the past that she'd step down after negotiating safe passage out of the EU, she has also declared that "as prime minister" she would not let the country remain in the bloc past June 30. May survived a no-confidence vote in December, and lawmakers must wait until the end of the year to try again.
If you like this story, share it with a friend!
You can share this story on social media: