Furious backlash amongst expats as UAE bans Skype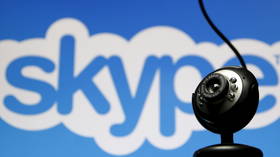 In a frustrating move for locals and expatriates alike the United Arab Emirates banned Skype this week, the Microsoft-owned company has announced, and residents of the Emirates have been venting their frustration online.
"It has been brought to our attention that our website and services have been blocked by the ISPs [internet service providers] in the United Arab Emirates. That means you won't be able to use Skype in the United Arab Emirates," Skype said in a statement. "We are working towards getting Skype re-enabled."
People in the UAE reacted with frustration on social media. The move is thought to have disrupted businesses in the Gulf nation and made it difficult for people to stay in touch with friends and relatives living overseas. Some have said it is at odds with the UAE's Vision 2021 economic development plan.
The UAE also blocked Skype in January last year, and in 2017. Voice calls on Whatsapp, Viber and Apple FaceTime are also outlawed in the country.
Etisalat, UAE's major telecommunication provider, has explained that Skype and other apps are providing an "unlicensed Voice over Internet Protocol (VoIP) Service, which falls under the classification of prohibited contents as per the United Arab Emirates' Regulatory Framework."
VoIP services contain a risk of hacking, phishing and privacy vulnerabilities, according to Emirate authorities.
Also on rt.com
US spies helped UAE hack phones of Al Jazeera chairman, BBC host & other journalists - report
However, some have speculated that the move was made in order to give an advantage to a domestic rival service by Etisalat called BOTIM, which requires a subscription fee to use. When Skype has been banned in the past, Etisalat and Du encouraged customers to use Botim and C'Me instead.
"Not only does the block make it difficult for people with families and friends overseas to communicate with each other, but it also hurts businesses by preventing them from conducting meetings due to Skype's global ubiquity," cybersecurity researcher Simon Migliano told Computer Weekly. "It's just not practical to expect the rest of the world to start using UAE-approved video conferencing tools to do business in the region."
Like this story? Share it with a friend!