Furious backlash amongst expats as UAE bans Skype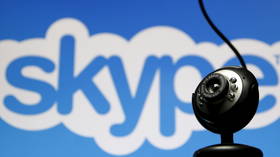 In a frustrating move for locals and expatriates alike the United Arab Emirates banned Skype this week, the Microsoft-owned company has announced, and residents of the Emirates have been venting their frustration online.
"It has been brought to our attention that our website and services have been blocked by the ISPs [internet service providers] in the United Arab Emirates. That means you won't be able to use Skype in the United Arab Emirates," Skype said in a statement. "We are working towards getting Skype re-enabled."
People in the UAE reacted with frustration on social media. The move is thought to have disrupted businesses in the Gulf nation and made it difficult for people to stay in touch with friends and relatives living overseas. Some have said it is at odds with the UAE's Vision 2021 economic development plan.
It's so frustrating that Skype is banned in the UAE. How are we meant to conduct interviews and meetings? Such a contradiction in 2021 & 2071 Visions goals.

— سلطان سعود القاسمي (@SultanAlQassemi) April 8, 2019
It is ridiculous, my brother studies abroad and my mother the other day started crying from the frustration of not being able to talk to him and her mother for such a long time..

— Mahi (@mahimojito) April 9, 2019
100% agreed! Even corporate apps like WEBEX have restrictions here. We, the UAE, should lead with technology, not withhold it! Please approve the use of Skype & Whatsapp Calls! https://t.co/ZKmkhH1gSW

— D.N.S. (@DubaiNameShame) April 9, 2019
Lmao when I had to explain to my school interviewers I was in university late at night because Skype works there and they laughed like I came from Barbarian Village or something.

— Saif بن لطيفة🗽 (@UnderscoreLucy) April 9, 2019
Even more frustrating is asking your international job interviewer or business partner to download some messed up app called Botim because our modern country aka "dubai" (uae) doesnt allow skype . 😓 (embarassing af)

— *~Bin.Abudabz~* (@Bin_Abudabz) April 8, 2019
The UAE also blocked Skype in January last year, and in 2017. Voice calls on Whatsapp, Viber and Apple FaceTime are also outlawed in the country.
Etisalat, UAE's major telecommunication provider, has explained that Skype and other apps are providing an "unlicensed Voice over Internet Protocol (VoIP) Service, which falls under the classification of prohibited contents as per the United Arab Emirates' Regulatory Framework."
VoIP services contain a risk of hacking, phishing and privacy vulnerabilities, according to Emirate authorities.
Also on rt.com
US spies helped UAE hack phones of Al Jazeera chairman, BBC host & other journalists - report
However, some have speculated that the move was made in order to give an advantage to a domestic rival service by Etisalat called BOTIM, which requires a subscription fee to use. When Skype has been banned in the past, Etisalat and Du encouraged customers to use Botim and C'Me instead.
Hi, The access to the Skype App is blocked since it is providing unlicensed Voice over Internet Protocol (VoIP) Service, which falls under the classification of prohibited contents as per the United Arab Emirates' Regulatory Framework.Thanks

— etisalat UAE (@etisalat) December 28, 2017
To all my friends and colleagues around the world. Please download the following app to make it easier for me to call you free of charge. As some of you know WhatsApp call, Skype , FB calls are all banned in the UAE- Botim will cost me approx 12 Euro's a month but nothing to you pic.twitter.com/U2NEeKQsIM

— chiara maioni (@chiaramaioni) April 9, 2019
You can use etisalats expensive and highly monitored app. "For security reasons" 😂

— Abdalla M. Taryam (@AbdallaTaryam) April 8, 2019
I totally agree. And what's more frustrating is the fact that right after the ban @etisalat offered BOTIM, a free video and voice calls service just like Skype, for a monthly subscription fee!

— Nawaf Al Janahi (@NawafAlJanahi) April 8, 2019
"Not only does the block make it difficult for people with families and friends overseas to communicate with each other, but it also hurts businesses by preventing them from conducting meetings due to Skype's global ubiquity," cybersecurity researcher Simon Migliano told Computer Weekly. "It's just not practical to expect the rest of the world to start using UAE-approved video conferencing tools to do business in the region."
Like this story? Share it with a friend!
You can share this story on social media: