One giant leap for meme-kind: Twitter pokes fun at humanity's 1st-ever image of black hole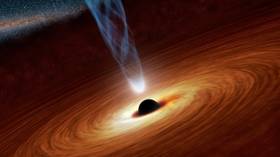 What happens in a black hole, stays in a black hole, unless you combine a network of some of the world's most powerful radio telescopes to create history and capture an extraordinary snap of the elusive galactic phenomenon.
In a truly supermassive deal, the Event Horizon Telescope (EHT) team unveiled the first-ever image of a black hole at six simultaneous news conferences around the world.
Also on rt.com
Scientists reveal first ever IMAGE of black hole (PHOTOS, VIDEOS)
The team used a global network of radio telescopes in the US, Mexico, Chile, Spain and Antarctica to create one giant dish powerful enough to capture the silhouette of an object some 54 million light-years from Earth, thanks to the combined efforts of a team of some 200 scientists and astronomers.
However, meme enthusiasts the world over may not quite have understood the gravity of the situation. Both the Simpsons and the Eye of Sauron from the Lord of the Rings trilogy of films featured heavily.
While others took issue with the apparent lack of clarity and blurriness of the image, despite the superhuman efforts of the scientists and astronomers.
Others were just hungry it seems.
And others resurrected some old favourites to mark the historic occasion.
Like this story? Share it with a friend!
You can share this story on social media: