Hungarian opera asks white actors to 'identify' as black for 'Porgy and Bess' production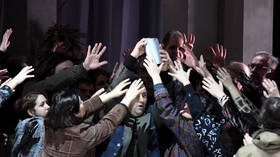 A Hungarian theatre director is controversially trying to bypass a rule that says the famous George Gershwin play 'Porgy and Bess' can be played only by an all-black cast — by asking the white actors to 'self identify' as African.
Szilveszter Okovacs, the general director of the Hungarian State Opera, has asked the 28 white performers in the production to sign a declaration attesting that they identify as black, Hungarian website Index reported.
"I, the undersigned, hereby state that African-American origin and identity are an inseparable part of my identity. Because of this I am especially glad to be able to perform in George Gershwin's opera, Porgy and Bess," the declaration states.
It is a somewhat extreme attempt to get around a stipulation made by the Gershwin estate that requires all-black casts for the musical, which is set in the American south in the 1930s.
Also on rt.com
Will Smith 'not black enough' for role as father of Williams tennis sisters in new biopic
But Okovacs has taken great issue with the rule, telling Euronews he sees it as "racist" and saying it makes it almost impossible to put on a production of the well-known play in Europe. "It's just not possible to do this [an all-black cast], you cannot decide who performs in a show based on the color of the skin or their origin," he said.
Okovacs also confirmed that 15 of the 28 performers in the production have signed a declaration attesting African origin. The all-white theatre company performed the first of a six-performance run of the play on April 5, despite the fact that they had already run into trouble with the Gershwin estate when they put the play on last year.
There is also speculation among Hungarian media that the company could be using illegally-made photocopies of the musical scores that were rented for the production last year.
Programs for the production on sale at the theatre did admit, however, that the "manner in which this production of Porgy and Bess is being produced is unauthorized and is contrary to the requirements for the presentation of the work."
Like this story? Share it with a friend!