Iran's Revolutionary Guards' top commander warns US carrier not to pass near its speed boats – media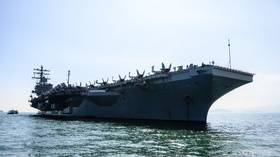 A day after Washington added the Iranian Revolutionary Guards Corps to the terror list, an elite force's top officer cautioned the US Navy against ordering its warships to sail close to their speed boats.
"Mr. Trump, tell your warships not to pass near the Revolutionary Guards boats," Mohsen Rezaei, a senior officer of the Islamic Revolutionary Guard Corps (IRGC), was quoted by the semi-official news agency ISNA.
Also on rt.com
Trump pumps new poison into US confrontation with Iran (by George Galloway)
In a Monday statement, the US President designated the elite Corps as a terrorist organization. The move was to "expand the scope and scale" of pressure on Tehran. Now, the US may impose further sanctions on the IRGC, with Trump himself warning that "if you are doing business with the IRGC, you will be bankrolling terrorism."
Tehran responded swiftly to the decision, declaring US Central Command (CENTCOM) a terrorist entity as well. On his part, Iranian President Hassan Rouhani accused the US of shielding terrorist groups, including Islamic State (IS, formerly ISIS), which members of the Guards are fighting against in the region.
The Pentagon's command oversees the Middle East, Central Asia and Egypt in North Africa. Notably, some US military leaders, including Joint Chiefs of Staff Chairman Gen Joe Dunford, expressed concerns about troop safety in the region. They argued that the designation could spark violence against US forces across the Middle East, according to the Wall Street Journal.
Like this story? Share it with a friend!
You can share this story on social media: