'Morally bankrupt pathological liars': Facebook slammed by NZ privacy commissioner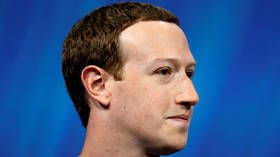 New Zealand's privacy commissioner said Facebook consists of "morally bankrupt pathological liars" that enable genocide and facilitate the undermining of democracy, in reaction to its response to the Christchurch attack.
John Edwards lambasted the social media giant on Twitter after it allowed the Christchurch attacker to livestream his massacre of 50 Muslims at two mosques in New Zealand in March. The footage was copied and widely shared online.
Also on rt.com
Should social media be scrubbing disturbing NZ shooting videos? Pundits clash in RT DEBATE
"Facebook cannot be trusted," Edwards wrote, slamming the tech giant for allowing "the live streaming of suicides, rapes, and murders," and for allowing of the mosque video to be published on its platform. He also called out the social network for allowing "advertisers to target 'Jew haters' and other hateful market segments," and said it refuses to accept "any responsibility for any content or harm."
"They #dontgiveazuck," he said.
Also on rt.com
Australia threatens tech giants with jail, fines for spread of violent content after Christchurch
Edward wrote his criticism in response to an interview that Facebook's Mark Zuckerberg gave to ABC last week. The tech company's founder and CEO wouldn't commit to any change to its live streaming technology in the wake of the Christchurch scandal and said events like Christchurch showed "the extent to which bad actors are going to try to get around our systems."
Edwards tweeted in response, "YOU DIDN'T HAVE ANY SYSTEMS!!!"
"... one of the things that this flagged for me, overall, was the extent to which bad actors are going to try to get around our systems."YOU 👏 DIDNT 👏 HAVE 👏 ANY 👏 SYSTEMS👏!!!!!Interview with Mark Zuckerberg: TRANSCRIPT - ABC News - https://t.co/XljmoBhLjs via @ABC News

— John Edwards (@JCE_PC) April 5, 2019
Edwards later deleted his tweets, saying they had invited "toxic and misinformed traffic."
Like this story? Share it with a friend!
You can share this story on social media: