Magnitude 6.1 earthquake strikes western Colombia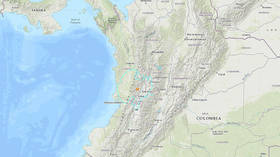 A major 6.1 magnitude earthquake has struck Andes region in western Colombia, the US Geological Service has reported. Videos showing some trembling have been uploaded on social media.
The quake struck at 14:21 (local time) (19:21 GMT) at a depth of 113 kilometers some seven kilometers away from the town of El Dovio.El Dovio is located some 370 kilometers west of the Colombian capital of Bogota.
There have been no immediate reports about any casualties or major damage in the wake of the earthquake.
Tremors could be felt in the city of Cali located more than 150 kilometers from El Dovio as well as near the capital. In Cali, the quake knocked bottles from shelves in a local supermarket. "People panicked and ran out" of the mall, one person wrote on Twitter.
In other footage, taken in a residential building near Bogota, kitchen utensils hanging on a wall can be seen shaking.
Think your friends would be interested? Share this story!