Pope refuses to accept resignation of French cardinal convicted of sex abuse cover-up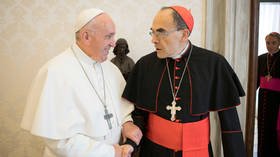 Despite promises to end sex scandals plaguing the church for decades, Pope Francis has declined to accept the resignation of French Cardinal Philippe Barbarin, who was convicted of concealing abuses by a priest in his diocese.
Cardinal Barbarin offered to step down in a private meeting with the Pope on Monday, less than two weeks after becoming the highest-ranking church official to be convicted of covering up sex abuse. Denying any wrongdoing, Barbarin has appealed the six-month suspended sentence he received in a surprise ruling by the Lyon court.
Also on rt.com
Pedophile priests' files either 'destroyed' or 'not even created,' admits Vatican top cardinal
While Pope Francis refused his resignation offer, he did suggest Barbarin "stand aside for a while," and the cardinal has delegated his day-to-day responsibilities to Vicar General Father Yves Baumgarten. Several victims of clerical abuse have expressed disappointment with the Pope's decision.
"It shows that we are right and that the problem is inherent to dogma," said François Devaux, president of La Parole Liberée, an advocacy group for victims of clerical sex abuse.
The French court ruled Barbarin was obliged to report Rev. Bernard Preynat to French authorities after learning in 2014 that Preynat had preyed on Boy Scouts throughout the 1970s and 1980s. Preynat, who has confessed to abusing the boys, will be tried on sexual violence charges in 2020.
Also on rt.com
Pope labels child abusing clergy 'tools of Satan', calls for 'all out battle'
Pope Francis called for an "all-out battle" against sex abuse by the clergy during a special summit last month that brought together 200 bishops, cardinals and other church leaders along with abuse survivors to the Vatican to address the issue. The conclave failed to present any sort of "battle plan" in the form of new rules or even recommendations on how to handle abuse cases, however, despite the Pope's acknowledgement that victims want "concrete and efficient measures" to address the unholy epidemic.
Little in the way of concrete reform has cleared the Vatican since 2016, when Pope Francis accompanied a promise to remove bishops who covered up for pedophile priests from office with a modification of Church laws intended to facilitate such a clean-up. Even then, however, the Pope was defending Barbarin from accusations he'd turned a blind eye to abuse by Preynat, insisting the cardinal had the situation "under control" and warning that it would be "an admission of guilt" for Barbarin to resign before his case was decided.
Think your friends would be interested? Share this story!
You can share this story on social media: