French air crash investigators say 'clear similarities' between Boeing 737 MAX crashes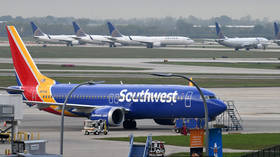 A team of French air crash investigators say they have found "clear similarities" between last week's Ethiopian Airlines crash and last October's Lion Air disaster. Both 737 MAX aircraft plunged nose-first to their doom.
"During the verification process of the FDR (flight data recorder) data, clear similarities were noted by the investigation team between Ethiopian Airlines Flight 302 and Lion Air Flight 610, which will be the subject of further study during the investigation," the BEA said in a statement.
Also on rt.com
FAA allowed Boeing to carry out its own flawed safety analysis of the 737 MAX - report
Ethiopian Airlines Flight 302 nosedived into a field shortly after takeoff last Sunday, killing all 157 people on board. Lion Air Flight 610 plunged into the sea last October, killing all 189 passengers and crew.
In both cases, the 737 MAX's MCAS system is suspected to be responsible. The system automatically makes adjustments to the tail angle to keep the plane level in flight. However, false sensor readings can repeatedly trigger the system, forcing the plane into a dive.
The BEA investigators found that the sensor readings in both flights were similar.
In the US, a group of engineers with the Federal Aviation Administration and Boeing claimed over the weekend that Boeing downplayed safety concerns surrounding the MCAS system in a bid to bring the 737 MAX to market before rival Airbus launched its own next-generation narrow body aircraft.
The engineers also claimed that the FAA delegated much of the 737 MAX's safety testing to Boeing itself, and were content to trust the company's conclusions. Other air safety regulators around the world then certified the MAX 8 based on the FAA's thumbs up.
The US Department of Transportation is now investigating the FAA's approval of the aircraft, the Wall Street Journal reported on Monday. Federal prosecutors have reportedly issued a subpoena to at least one person involved in the development of the 737 MAX.
The aircraft remains grounded worldwide after the Ethiopian Airlines disaster. The FAA has said it may take "months" for Boeing to apply the necessary software updates to rectify any problems with the MCAS system.
Subscribe to RT newsletter to get stories the mainstream media won't tell you.
You can share this story on social media: