Shootings at 'several' locations in Utrecht – head of Dutch counterterrorism agency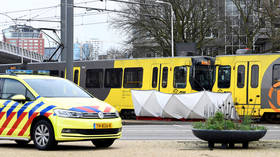 Shooting has been reported in other locations across Utrecht, the head of the Dutch anti-terrorism authority said just hours after shots were fired on a local tram, killing three people and injuring several others.
Anti-terrorism coordinator Pieter-Jaap Aalbersberg warned on Twitter that "the culprit is still on the run," and that "a terror motive cannot be excluded." In an earlier statement, he announced that the threat level in the Utrecht province has gone up to five, which is the highest.
Also on rt.com
Shooting 'appears to be terrorist attack', Utrecht threat level now highest - counter-terror agency
Aalbersberg's statement contradicts that of police spokesman Bernhard Jens, who later told NOS outlet that "reports about shootings other than at 24 Octoberplein are not correct."
Dutch police and paramilitary forces went on extra alert at national airports and key facilities in the country as the manhunt for the suspect takes place.
Meanwhile, in neighboring Germany, police have also increased surveillance on the border with the Netherlands and are on the lookout for the gunman, whose description they have received. Additional personnel have been dispatched to watch not only major highways, but also minor crossings as well as railway routes.
Think your friends would be interested? Share this story!
You can share this story on social media: