Dozens of victims in shootings at 2 New Zealand mosques, 4 suspects in custody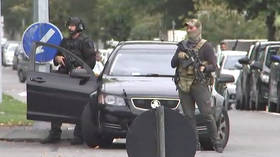 New Zealand police have defused several improvised explosive devices found attached to vehicles in Christchurch following mass shootings at two mosques that left 49 people dead.
The shooter entered the Masjid Al Noor mosque 10 minutes after prayers began and let off "dozens, if not hundreds of rounds," witness Ahmad al-Mahmoud told New Zealand outlet Stuff. He described the man as white-skinned, blond, short, and wearing a helmet and bulletproof vest.
A second shooting took place at Linwood Masjid, where a witness says they saw a man leave the mosque wearing camouflage gear and a motorcycle helmet, while unconfirmed reports indicate a bomb was found on nearby Strickland Ave.
A Muslim local reportedly chased the gunmen off from the Linwood mosque, firing two shots at them as they drove off.
Four suspects are currently in custody, including one woman, and public facilities remain on lockdown while police are urging mosques elsewhere in New Zealand to close their doors for the remainder of the day. One of those detained has been confirmed to be an Australian citizen.
PM Ardern has confirmed that none of the suspects were on security watch lists.
"I want to ask anyone who was thinking of going to a mosque anywhere in New Zealand today, not to go," commissioner Mike Bush said.
A crisis meeting of national security agencies is underway at the Wellington headquarters of the New Zealand national police.
Officers cleared buildings near the mosques, while Christchurch schools have been placed on lockdown. Another witness said he saw "a man in handcuffs being led away by police."
Prime Minister Jacinda Ardern has confirmed 49 people have been killed and over 20 injured.
A text sent by the Federation of Islamic Associations of New Zealand reportedly said 50 people were shot during Friday prayers.
Twenty emergency vehicles are on the scene, and six people have reportedly been taken to the hospital, with two in serious condition.
"It is clear that this is one of New Zealand's darkest days," Prime Minister Jacinda Ardern said in a press conference.
Footage has emerged of police ramming a vehicle and arresting a shooter.
One of the shooters, believed to be a 28-year-old Australian man, livestreamed the attack on Facebook, according to local media, and penned a lengthy manifesto characterizing the shooting as a "terrorist attack."
The attack resulted in the highest death toll from gun violence in the nation's recent history.
New Zealand's three largest internet providers, Spark, Vodafone and Vocus, have announced they are blocking customers' access to three websites located outside the country that are still hosting the livestream of one shooter's rampage, an unprecedented restrictive measure Spark spokesman Andrew Pirie called "the responsible thing for the industry to do."
Like this story? Share it with a friend!
You can share this story on social media: