Hollywood producers bending over backward to hit Chinese box-office
Published time: 7 Feb, 2019 10:41
Edited time: 6 Mar, 2019 11:55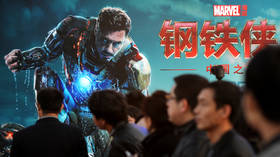 From removing references to Tibet and deleting explicit scenes to adding entirely new ones where Chinese characters save the day, China's massive market has Hollywood producers scrambling to win their favor… but at what cost?
While Trump negotiates a trade war with Beijing, some Hollywood bigwigs seem ready to do whatever it takes to appease the Communist Party in order to make it onto the short list of foreign films allowed to hit the $1.7bn Chinese film market. RT's Ilya Petrenko explores how the movie industry's passion for cash has let Chinese influence take a firm hold on American movie makers, and how doing so has changed some fan-favorite films.
Like this story? Share it with a friend!