At least 3 Pakistani combat jets enter Indian side of Kashmir, intercepted – Indian official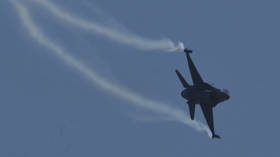 Indian Air Force jets intercepted Pakistani military jets after they crossed into Indian airspace over disputed Kashmir. While Pakistan struck India, but said its jets didn't cross the border and avoided "human loss."
Indian fighter jets forced the Pakistanis to retreat after an encounter over the disputed Kashmir region, an Indian official told Reuters.
Amid the reported incursion, Indian authorities shut down the Sheikh ul-Alam International Airport in Srinagar, Kashmir. Three smaller airports in the area suspended commercial flights over safety concerns.
Meanwhile, the Pakistani Foreign Ministry said the country's military launched "a series of strikes" across the border, but claimed they were carried out from Pakistani airspace.
Also on rt.com
Pakistan downs 2 Indian aircraft inside its airspace, pilot arrested – military
"This was not a retaliation to continued Indian belligerence. Pakistan has therefore, taken strikes at non military target, avoiding human loss and collateral damage. Sole purpose being to demonstrate our right, will and capability for self defense," the ministry said in a statement.
#Pakistanstrikesback#PAF undertook strikes across LoC from Pakistani airspace. Sole purpose of this action was to demonstrate our right, will and capability for self defence. We do not wish to escalate but are fully prepared if forced into that paradigm#PakistanZindabad

— Dr Mohammad Faisal (@ForeignOfficePk) February 27, 2019
No details about the Pakistani operation were given, but Islamabad reserves the right to "retaliate against elements that enjoy Indian patronage" in response to similar moves by India.
On Tuesday, Indian warplanes entered Pakistani airspace to target what Indian officials called a terrorist training camp responsible for a suicide bombing attack on Indian troops, which happened two weeks ago.
Pakistan condemned the move, saying it reserved the right to respond to the incursion at a time and place of its choosing.
Also on rt.com
Who would win? India has army advantage over Pakistan, but nuclear stocks assure mutual destruction
Think your friends would be interested? Share this story!