China rejects Turkey's 'baseless' criticism over Uighur Muslims & claims of famed poet's death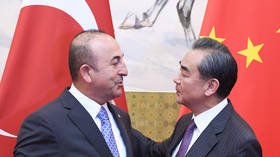 Beijing has rebuffed accusations by Ankara's foreign ministry of alleged concentration-camps for a Turkic minority group in China, including reports that a famed poet had died in one.
The statement by Beijing's embassy in Ankara called Turkey's claims "totally unrealistic," and highlighted their "strong opposition" to the accusations.
"The Chinese Foreign Ministry's response to the Turkish Ministry of Foreign Affairs: the allegations are outrageous, we have an official initiative," the tweet read.
"Allegations that the Chinese government is liquidating the ethnic, religious and cultural identities of Uighurs and other Muslim communities are totally baseless," the statement concludes.
On Saturday, Turkish Foreign Ministry spokesman Hami Aksoy released a statement condemning the "torture and political brainwashing" allegedly committed by the Chinese government while "systematically assimilating" the country's minority Muslim population. He also called to commemorate the death of Abdurehim Heyit, claiming the Uighur poet and musician died in a Chinese internment camp.
Also on rt.com
China tells 'imperfect' US to mind its own business over religious freedom criticism
However, China responded on Sunday by releasing a video of Heyit which seemed to show him in good health, suggesting that reports of the poet's death may have been exaggerated.
While these responses specifically addressed Aksoy's claims, they also showcase Beijing's general answers to accusations that a million Uighurs are being held in re-education centers in China.
Although the Chinese government admits that such centers exist, it says that they are there to provide job and language training while stamping out "extremist elements." They also claim that these "vocational centers" have been open to outside journalists, including those from Turkey.
Pressure against China has been escalating since a law was passed last month aiming to "Sinicize" Islam throughout the country. According to Chinese state media, the initiative aims "to guide Islam to be compatible with socialism."
Like this story? Share it with a friend!
You can share this story on social media: