Acting US Defense Secretary makes surprise visit to Afghanistan, urges Kabul to join peace talks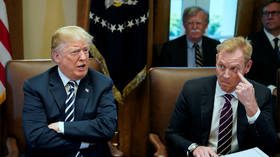 Afghan officials were treated to a surprise visit by the acting US Secretary of Defense, Patrick Shanahan, who arrived unannounced, apparently to discuss peace talks and the prospects for American military presence in the region.
"It is important that the Afghan government is involved in discussions regarding Afghanistan," Shanahan told reporters accompanying him, as cited by Reuters.
Acting Defense Secretary arrives at Resolute Support for an announced visit to meet the head of US forces in Afghanistan and later Afghan President Ashraf Ghani. Comes amid a U.S. push for peace talks with the Taliban. pic.twitter.com/xGpuzqtUD2

— Idrees Ali (@idreesali114) February 11, 2019
Shanahan's arrival in the war-torn country comes amid ongoing discussions on how to reduce US troops' presence there. In December, the Trump administration ordered the military to start devising plans to withdraw roughly 7,000 personnel from Afghanistan in the coming months. Over the past few weeks, a US delegation has been engaged in talks with the Afghan officials trying to prepare for a US pullout.
Also on rt.com
US envoy admits 'positive' Russian role in Afghan peace process as generals bemoan 'lost' war
The US has also been calling for direct talks between the Taliban and the Afghan government – especially after Moscow hosted a conference of high-profile Afghan delegates, which featured Taliban representatives but lacked officials from Kabul, who chose to boycott the talks.
After nearly 18 years of US-led war in Afghanistan, the acting Pentagon chief, who temporarily took over after James Mattis resigned over Trump's decision to pull out of Syria, said that Afghans must decide they future on "their own" – including how to deal with the Taliban.
Also on rt.com
'All expectations exceeded': Former Afghan president Karzai rathers Moscow talks than US 'failure'
Besides talking with Afghan government officials, Shanahan is also expected to meet US troops and commanders on the ground during his first overseas visit in an official capacity. However, he told reporters, he has no particular instruction from the administration about any slashing of the American troop presence in Afghanistan from the current 14,000 soldiers.
Like this story? Share it with a friend!
You can share this story on social media: