5.1 magnitude earthquake hits Azerbaijan, tremors felt in capital Baku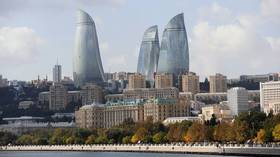 A 5.1 magnitude earthquake has struck in the Caucasus Mountains, with the epicenter 10 kilometers below the surface near the town of Basqal, in Azerbaijan's Ismayilli region. The tremors were strong enough to be felt in Baku.
The quake was registered at 11:41 pm local time. US Geological Survey seismologists have pinpointed its location to 26 kilometers northwest of the town of Basqal, about 150 km west of Baku.
Another tremor was registered 10 minutes later, 131 km northwest of Baku, according to the European-Mediterranean Seismology Center.
Azeri authorities said the first quake was magnitude 6 at the epicenter and 5.3 in the surrounding areas, and took place at the depth of 8 kilometers.
This makes for a total of three earthquakes in Azerbaijan on Tuesday, as a magnitude 4 quake was recorded earlier in the day in the Lerik region, on the border with Iran.
DETAILS TO FOLLOW
You can share this story on social media: