Arson suspected as 10 killed, over 30 injured in Paris residential building fire (PHOTOS, VIDEOS)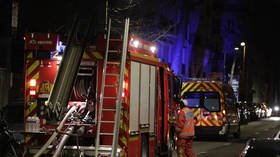 French investigators suspect a criminal motive behind a massive fire that saw at least ten people killed and over 30 injured in an eight-story residential building in Paris. One woman was detained in connection with the probe.
A woman has been detained as part of an inquiry into the fire, with Paris prosecutor saying investigators are now looking at a "criminal reason" behind the massive blaze, according to Reuters.
Meanwhile, firefighters are searching flats to make sure there are no other victims. Emergency teams are also working to ensure the building does not collapse from the fire damage.
Firefighters were summoned to deal with a developing blaze in the 16th arrondissement of Paris in the early hours of Tuesday morning after multiple floors of an eight-story apartment building caught fire. Residents of the luxury neighborhood scrambled to reach the rooftops to escape the smoke and flames as rescue crews battled the blaze.
So far, at least ten people were confirmed dead in the fire, authorities reported, while at least 30 others, including three firefighters, suffered injuries.
Around 200 firefighters were deployed to the area. The remaining residents of the building and those in adjacent structures have been evacuated.
Think your friends would be interested? Share this story!
You can share this story on social media: