Putin on Ukraine schism: Russia reserves right to defend people's freedoms, incl. religious beliefs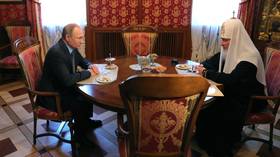 While Russia doesn't seek to meddle in Ukraine's church affairs, it reserves the right to do "everything" to defend people's freedoms, including religious beliefs, President Vladimir Putin warned at a meeting with Orthodox clergy.
"The Russian government believes that any meddling in church affairs is off-limits. We've respected and will respect the independence of church life, especially in a neighboring sovereign country," Putin said on Thursday, while meeting heads of several Orthodox churches in Moscow.
Yet we reserve the right to react and do everything to protect human rights, including the freedom of worship.
The top Orthodox clergy gathered in the Russian capital to celebrate the 10th anniversary of the enthronement of Patriarch Kirill. The ongoing religious rift in Ukraine has been one of the hottest topics at the gathering, which also touched upon relations between church and state, science and religion, as well as other issues.
The ongoing schism in Ukraine has "nothing to do with the faith," Putin stated, as it solely serves the interests of politicians and sows only "hatred and intolerance."
"A blatant interference into the church life is being carried out, as if its initiators have learned from the atheists of the past century, who have expelled the faithful from the temples, attacked and prosecuted the clergy," the president said.
Orthodox Christianity has faced a major rift recently as Ukrainian authorities moved to create their own church, independent from Moscow. The canonical, internationally recognized Ukrainian Orthodox Church had traditionally been part of the Moscow Patriarchate.
Kiev's move attracted support from the Ecumenical Patriarchate of Constantinople, which granted independence to a newly created body, dubbed the Orthodox Church of Ukraine, earlier this month. The Moscow Patriarchate has refused to recognize the new entity, with Patriarch Kirill describing the situation as an "unprecedented meddling of state" into church affairs. Other heads of the Orthodox world have either been silent on the new church or outright condemned it.
Also on rt.com
Orthodox canon 'not a weapon for conquest': American Synod rejects new church in Ukraine
Like this story? Share it with a friend!
You can share this story on social media: