Syrian air defense 'thwarts' Israeli 'aggression' – state media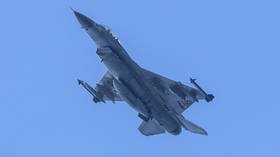 Syrian air defenses successfully fended off an IDF aerial raid, targeting the southern part of the country, and prevented the strike force from achieving its goals, state media at Damascus reported, citing a military source.
The Syrian air defense systems "thwarted an Israeli air aggression" and "prevented it from achieving any of its goals," a military source told state-run news agency SANA.
The military, however, stated that they intercepted a rocket which was launched at the northern Golan Heights. The IDF didn't specify where the rocket came from.
Israel has repeatedly carried out bombing raids into Syria in an effort to fight supposed Iranian proxies which Tel Aviv says endanger its national security.
Not all airstrikes and raids reported by Damascus were subsequently confirmed or acknowledged by Israel. Syria has on numerous occasions condemned the raids and called them a flagrant violation of its sovereignty.
Just last year alone, Israeli jets dropped 2,000 bombs on Syrian territory, targeting the alleged Iranian-linked militants, the outgoing chief of the IDF, Gadi Eisenkot, told the media earlier this week.
Also on rt.com
'We struck thousands of targets': IDF chief of staff on Israel's 'near-daily' strikes in Syria
Israeli military actions in Syria were blasted by Russia. Officials in Moscow said that the "provocative" Israeli raids endanger civilian flights, and accused the IDF of using a Russian aircraft as 'cover' for its planes during an incursion into Syria.
At the same time, Israel's prime minister and acting defense chief, Benjamin Netanyahu, praised the conduct and of capabilities the nation's air force. "We are standing steadfast on our red lines in Syria and everywhere else," he told a group of cadets in December.
Think your friends would be interested? Share this story!
You can share this story on social media: