4 dead, 10 injured in tourist bus blast near Giza pyramids in Egypt (VIDEO)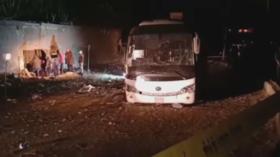 At least four people were killed and 10 injured as a bus carrying Vietnamese tourists on their trip to the ancient Giza pyramids was rocked by an improvised explosive device in Egypt's capital, Cairo.
Two tourists died in the explosion while 10 more were injured, the Egyptian Interior Ministry said in a Facebook statement, adding that the driver and a local travel agent were also wounded in the blast.
The bomb was planted on the roadside of Al Haram Mariotia Street in Giza, southwest of Cairo, the authorities said. The blast went off at 18:15 local time (16:15 GMT).
Photos surfaced on social media allegedly showing the attack site with the crumpled wreckage of the bus.
The Egyptian tour guide later succumbed to his wounds in hospital, Prime Minister Mostafa Madbouly told journalists. The death toll was then further raised to four as one of the tourists also died in the hospital, according to the office of the Egyptian Prosecutor General.
The prime minister also said that the bus "deviated from a traditional tourist transit route," which is "safe" and is "guarded by the police." The driver chose another way without alerting the security services, he explained.
While no group immediately took responsibility for the attack, Egypt has for years been struggling with Islamist insurgency. In October, President Abdel Fattah el-Sisi extended the state of emergency, introduced back in 2017 over two church bombings that killed 45,for another three months.
Egypt continues to be targeted by terrorist attacks launched by a local affiliate of Islamic State (IS, formerly ISIL/ISIS). In November, the extremists attacked a bus taking Coptic Christians to a local monastery and killed seven people. In September, Egyptian police detained a man who'd attempted to detonate an explosive device outside the US Embassy in Cairo.
The previous attack targeting tourists occurred in summer 2017, when an assailant killed two people and injured six in a knife attack on a beach resort.
Think your friends would be interested? Share this story!