Erdogan: Reports of Damascus taking control of Manbij, Kurdish-held town bordering Turkey is 'psyop'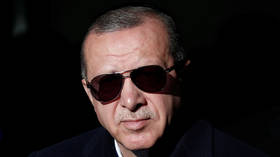 The statement that Syrian government troops have entered Kurdish province Manbij, a northern city in the focus of a stand-off between Turkey and Syrian Kurds, is 'psychological operation', according to the Turkish President.
Damascus announced the deployment of troops to Manbij earlier on Friday in response to a call by Kurdish YPG militias. President Tayyip Erdogan of Turkey suggested it may be an attempt by Damascus to put psychological pressure on Ankara.
"We know that Syria is in a psychological action. We know that there is a situation like waving their own flag there. But there is nothing definite there yet," the Turkish President said as cited by Anadolu news agency.
Also on rt.com
Syrian Army 'raises flag' in country's Kurdish province for 1st time since start of civil war
He also acknowledged that if the YPG, which is branded as a "terrorist organization" by Ankara, has pulled its fighters from Manbij and surrounding areas, there would be "no job left" there for the Turkish army.
Earlier this month, Turkey threatened to launch a new military operation against Kurds in northern Syria, complaining that the American allies of the Kurds were failing to address Turkey's concerns about them. The US then announced plans to withdraw its troops from areas controlled by Kurds. The Turkish army amassed tanks at its southern border but stopped short of launching the promised offensive.
The YPG on Friday made a public call to Damascus to send its Army to Manbij while saying that the Kurdish fighters would be focusing on fighting the jihadist group Islamic State elsewhere. Damascus responded with a statement from the General Staff, which said its troops have already risen Syria's flag over Manbij area.
Also on rt.com
Moscow welcomes Syrian Army entry to Manbij, will 'synchronize expectations' with Ankara
The moves come a day before Turkish foreign and defense ministers are to meet their Russian counterparts in Moscow to discuss the situation in northern Syria. Russia has been supporting Damascus in its fight against jihadist groups.
If you like this story, share it with a friend!
You can share this story on social media: