Strasbourg Christmas market gunman killed in shootout with police (PHOTOS, VIDEO)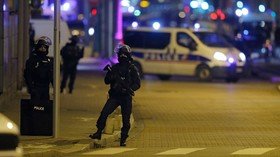 French police have killed the main suspect in the deadly Strasbourg Christmas market shooting, Cherif Chekat, following a dramatic, helicopter-assisted raid and a shootout in the city center.
More than 700 officers and military personnel, as well as two helicopters, were engaged in a 48-hour operation to hunt down the 29-year-old suspect, following the Christmas Market attack on Tuesday.
With France's threat alert level raised to the max, 'wanted' posters of the gunman were made public across the city, which sits on the German border. Heavily armed police brigades continued to keep guard in Strasbourg two days after the suspect fled the scene.
By Thursday afternoon, the Paris prosecutor's office had arrested a fifth suspect in connection with the shooting, who they believe was a member of the "entourage" of Chekat. Paris even fortified its border checkpoints with Germany, to block the suspect's potential escape routes.
Around 9:00pm Thursday night, while brushing through the center of Strasbourg with the helicopters buzzing above, three national police officers spotted an "individual" matching the suspect's description casually "strolling" the streets, roughly two kilometers away from where he launched his attack, Interior Minister Christophe Castaner told reporters.
When the officers approached the man to question him, he turned around and started shooting.
They fought back and neutralized the assailant.
Several photos immediately surfaced on social media, allegedly showing Chekat's corpse. They depict a man with a gunshot wound to the head lying on the pavement with a vintage-looking gun next to him.
The mayor of the city, Roland Ries, told reporters that a "return to normal life" would follow.
Footage from the scene shows Strasbourg residents and onlookers giving a standing ovation to law enforcement officers after their successful operation.
Chekat had a huge criminal record, being convicted 27 times for various offenses committed in France, Germany and Switzerland. He was shadowed by DGSI, France's homeland security agency, for harboring extremist views.
Yet all the intelligence they had did not help the French security service to prevent Tuesday's attack at a popular Christmas market that left three people dead and a dozen wounded. Chekat was reportedly shouting "Allahu Akbar" as he opened fire on the unsuspecting shoppers.
The Islamic State (IS, formerly ISIS/ISIL) terrorist group even rushed to claim responsibility for the attack, saying through its propaganda mouthpiece that it was a revenge on the coalition by one of its militants, though it failed to back the claim with any evidence.
Also on rt.com
Strasbourg gunman cried 'Allahu Akbar' during attack, has 27 convictions – prosecutor
Think your friends would be interested? Share this story!
You can share this story on social media: