Win or die: The secret to surviving in Game of Thrones? Forget about loyalty, scientists say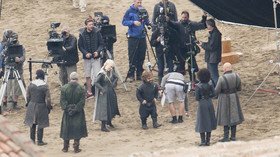 If you ever find yourself trapped in a real-life Game of Thrones-style nightmare, don't be afraid to cast your morals aside in pursuit of survival. New research shows loyalty led characters in the popular show to an early death.
The research, published in the Injury Epidemiology journal, showed that Game of Thrones characters were more likely to survive if they switched their allegiances when necessary.
The researchers at the Macquarie University in Australia analyzed 330 deaths across seven seasons of the TV show based on George R. R. Martin's A Song of Ice and Fire books, in an effort to decipher which characters were more likely to survive into the final season, reaching the conclusion that loyalty reaps few rewards.
Take Tyrion Lannister, for example. He managed to avoid a premature death by dropping his allegiance to the house Lannister in favor of the house Targaryen.
Early death was also more likely to befall a character if they were 'lowborn' compared to those who were 'highborn' (a Lord or a Lady, for example).
Death is a common occurrence in the hit TV show. In fact, by the end of the seventh season "more than half of the characters had died," with most of the deaths being violent, according to Dr Reidar Lystad, an author of the study. The probability of a character dying within the first hour of appearing on screen was 14 percent, with the survival time of individual characters ranging from 11 seconds to 57 hours and 15 minutes.
Most of the deaths (over 80 percent) also took place in Westeros, with the most common location being the unlucky character's own home. As for the causes of death, 73.7 percent were injuries, particularly to the head and neck — including 13 decapitations. Other top causes were burns (11.8 percent) and poisonings (4.8 percent). Dying of natural causes was rare, with only two characters, Maester Aemon and Old Nan, dying of old age.
READ MORE: Mountain vs Gravity: Game of Thrones star helps scientists determine which planets to colonise
Having qualities that are associated with higher chances of survival might not be enough to save show favorite Tyrion Lannister, however. Lystad predicted to Newsweek that the popular character probably won't make it "all the way to the end."
As for comparing the fictional world of Game of Thrones to reality, the study's authors said that while the show obviously "cannot be interpolated into human history," it still might be instructive to compare the drama of Westeros and Essos to the chaos and violence of real history.
"The political structure of the realm is evidently unstable. The legitimacy of the ruling power is questionable and the rule of law is ineffective," they wrote, adding "knowledge and reason do not appear to play a significant role in problem-solving and decision-making" and that violence prevention in this kind of society is clearly "not a priority."
Like this story? Share it with a friend!
You can share this story on social media: