Syrian air defenses intercept enemy targets near Damascus – state TV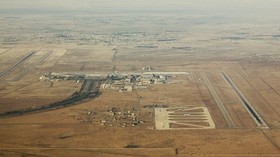 Syrian air defenses have engaged and intercepted "enemy aerial targets" close to Damascus International Airport, according to state media reports.
Information on what exactly was intercepted or who might have been behind the reported attack was not immediately available.
The report, however, was taken down by the Syrian media shortly after release. It remains unclear, whether any attack actually took place or it was a false alarm altogether.
The city of Damascus and its surroundings have repeatedly come under attacks over the past few years, with its air defense engaging various incoming aerial targets. Syrian officials have been routinely blaming Israel for the attacks, yet Tel Aviv rarely admitted its involvement.
The most recent incident of such sort occurred late in November, when state media reported that "enemy targets" were engaged above the town of Kiswah, located south of Damascus. Origin and nature of the projectiles, however, were not confirmed officially.
You can share this story on social media: